AusKhmer, Cambodia's leading importer of food, wine & beverages, last week had staff from its Oil Fields Operations Team, undertake SMCS RISK's Basic Fire Training.
AusKhmer's Oil Fields Operations staff provide catering services to some of Cambodia's leading companies and often operate in kitchen environments where the risk of fire is common.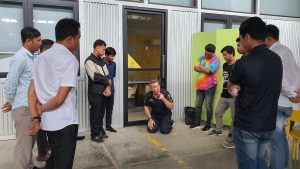 SMCS RISK operates regular Basic Fire Training courses in Cambodia and teaches students about the risk of fire, how fire spreads and how to safely respond if a fire occurs in your home, school or workplace.
To find out how you can undertake a Basic Fire Training course or any other SMCS RISK Training course, please view the 'Upcoming Training Courses' on the homepage of our website or contact SMCS RISK via email.