In July 2018, SMCS Risk provided fire response & rescue training to 40 employees at Cambodia's largest cement factory, Chip Mong Insee.
Like all specialist fire skills, unless there is ongoing maintenance of the skills that have been learnt and there is regular practice of the learnt specialist skills, it is difficult to respond in a professional and safe manner when an emergency incident occurs.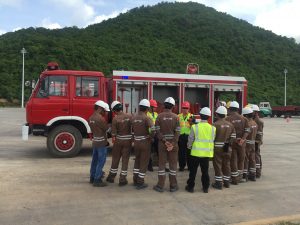 This week SMCS Risk signed a contract to provide Fire Skills Maintenance Training to the 40 Chip Mong Insee employees who were trained last year in Fire Response & Rescue. SMCS Risk will provide fire skills maintenance training to the 40 trainees, four (4) times in 2019.
The Fire Skills Maintenance Training will refresh and enhance Chip Mong Insee's Fire Rescue Team's capabilities to successfully combat any fire emergency.
"We are honoured that Chip Mong Insee, who are a very reputable company, have once again recognised SMCS Risk as the leading fire response & rescue training company in Cambodia." said Mitch May, SMCS Risk's Chief Operating Officer.
"We look forward to working with Chip Mong Insee whose top priority is safety through visible and responsible leadership."said May. Read Statement From Chop Mong Insee
SMCS Risk's Fire Response & Rescue Instructors have over 30 years of experience commanding fire teams in Melbourne, Australia and have provide numerous in-country training courses to leading companies in Cambodia.
For more information about SMCS Risk's training programs please email our Business Development Team.