SMCS RISK is delivering skill enhancement training next week for the SCBA & Fire Fighting Teams at Chip Mong Insee.
Commencing the second of 4 training courses scheduled for 2019, 40 Chip Mong Insee employees who operate as the company's fire rescue teams, will undergo a further 5 days of training.
Designed to further enhance and expand their fire rescue knowledge, the Fire Rescue Teams will undertake intensive practical based fire rescue and SCBA training.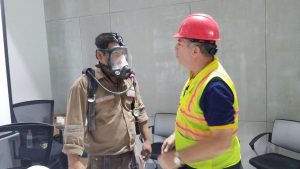 "Fire fighting, fire rescue and SCBA is a perishable skill. We are aiming to provide intensive training to the Chip Mong Insee teams and make them leaders in Cambodia for industry based fire rescue."said David Miller, SMCS RISK's Director of Training.
SMCS RISK's Director of Training, David Miller, has over 35 years of fire rescue experience, with many years working as the Emergency Management Commander for the Metropolitan Fire Brigade in Melbourne, Australia, and has trained fire fighting teams in many countries in South East Asia.
For more information about SMCS RISK's training programs please view our website or contact us.