Cambodia has been fighting to stop the import of fake medicine into the country for a long time and even though authorities have proactively conducted investigations and made significant seizures, criminals continue to use Cambodia as a dumping ground and transit hub for illegal medicine.
SMCS Risk has been working with numerous international pharmaceutical companies for the past 8 years to investigate and seize illegally diverted and counterfeit medicines in South East Asia. A report compiled and released by SMCS in 2016 highlighted the large amount of illegal medicine SMCS Risk, in conjunction with Law Enforcement partners, had seized in Cambodia.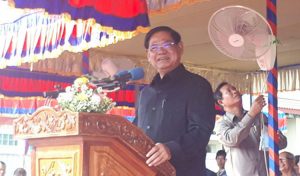 Last week the Cambodia Deputy Prime Minister, Excellency Sar Kheng gave a speech raising concerns at the level of counterfeit and illegal medicine being imported into and sold in Cambodia.
SMCS Risk applauds the Deputy Prime Minister for continuing the fight against illegal medicine but as SMCS Risk's CEO, Steve Morrish said at a recent presentation to the pharmaceutical industry, more must be done at ground level if Cambodia is to reduce the high amount of illegal medicine being imported into he country.
"Cambodia has very porous borders, making it very difficult to stop the illegal importation of medicine, however if authorities increased prosecutions against pharmacies and clinics for selling illegal medicine, increased prosecutions of establishments that sell medicine and operate without a license and increase prosecutions of pharmacists who allow non-qualified people to sell medicine on their behalf, then the ability for criminals to distribute illegal medicine will be greatly diminished.: said Steve Morrish.
For more information about our brand protection program please contact SMCS Risk.