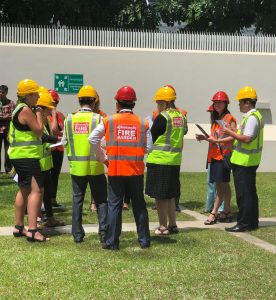 There is no debate that fire can occur without warning and spread very quickly at any workplace.
It is therefore an employers obligation to provide employees with the necessary knowledge and training to react to a fire if it occurs, and safely evacuate a building if a fire cannot be contained quickly.
Last week, SMCS Risk was given the honour of working with staff at the Australian Embassy in Phnom Penh, Cambodia, to provide fire safety and fire evacuation training.
Over 3 days, SMCS Risk's fire safety trainers, who have many years of international and local experience & knowledge in fighting fires and emergency evacuation procedures, provided theoretical and practical training to the Australian Embassy staff and support personnel.
"I observed the fire evacuation exercise on the last day of training and I was very impressed at how professional, orderly and methodical the Embassy staff conducted the evacuation exercise. If this had been a real fire emergency, all lives would have been saved. Well done to everyone involved." said Steve Morrish, CEO of SMCS Risk.
For more information about SMCS Risk's fire safety training courses please contact SMCS Risk's Business Development Officer on mitch@smcs-risk.com or call 011 692 899.