Chip Mong Retail employees undertook SMCS RISK Basic Fire and Warden Training last week in Phnom Penh.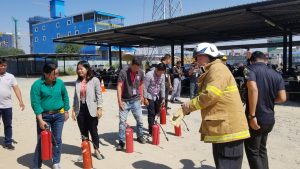 With a vision to become the leading place for retail stores and shopping malls in Cambodia, Chip Mong Retail is ensuring that safety at its stores is of the highest standard and their staff are well-trained in the application of fire, first aid and other safety related actions.
SMCS RISK, recognised as the leading fire safety training company in Cambodia by many leading companies, provided basic fire and warden training to 15 employees from Chip Mong Retail.
"Any business that has heavy people traffic like a shopping mall, needs to have fire prevention and emergency response plans in place as well as have staff trained in responding to and implementing the emergency response plans." said Dave Miller, SMCS RISK's Director of Training.
SMCS RISK will continue to work with Chip Mong Retail and assist with their fire evacuation response plans for all of the retail stores.
Fore information about SMCS RISK's training programs please view our website or contact us via email.