Like all Chip Mong Group Companies, Khmer Brewery prides itself on providing a safe work environment for all its employees, contractors and visitors.
On of the most useful machines in a number of industries, including construction, warehousing, and manufacturing, is the forklift. When used correctly, a forklift is a very useful piece of machinery, expediting loading processes and often helping avoid a number of common workplace injuries by limiting the amount of lifting that workers have to do.
However, forklifts also carry a number of safety risks that everyone in the workplace should be fully aware of and properly trained for.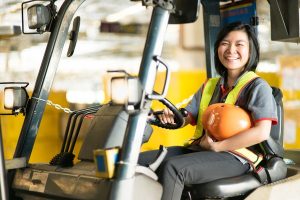 SMCS Risk will provide Forklift Training to operators at Khmer Brewery as well as provide a Forklift Train the Trainer course to 10 Khmer Brewery employees. Our fully accredited and qualified instructors conduct the course in Khmer and English, and our intensive 3 day course is aligned with Australian Standards, giving drivers the skills and knowledge to safely operate a forklift, as well as total comprehension of lift capacities. maintenance, risk assessments and all other aspects related to the operation of a forklift.
"It is not legislated in Cambodia that a person operating specialist machinery like a forklift or crane has to be accredited and licensed, which presents some very obvious risk on sites that operate these types of machinery." said Steve Morrish, CEO of SMCS Risk.
"This means that safety standards are predominantly driven by companies themselves, and we are very happy that we can work with a reputable company like Khmer Brewery, to train their forklift operators and help them create a more safer working environment." Morrish said.
For more information about SMCS Risk's Specialist Machinery Training Courses, please contact us.