SMCS Risk has provided another one of its Forklift Operator Training Courses to 13 employees working at Cambodia Beer company, Hanuman Beverages.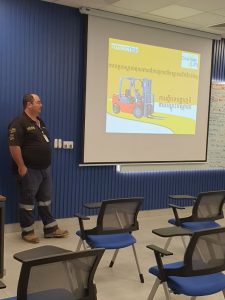 Conducted on site at Hanuman Beverages, the SMCS Trainers delivered the intensive specialist training over 3 days, teaching the participants key forklift operator concepts like forklift capacities, controls and heights, lifting gear, lifting methods and safe work practices.
"It's easy to get into a forklift and drive it. But without experience and proper training, a forklift can be a very dangerous piece of machinery." said Phil Adames, SMCS Risk's Lead Specialist machinery Trainer.
For companies serious about ensuring that their forklift drivers are adequately trained in the safe operation of forklifts, please contact SMCS Risk.