SMCS Risk is excited to announce that Honeywell, an American multinational conglomerate company that makes a variety of commercial and consumer products, engineering services and aerospace systems, has selected SMCS Risk to be their exclusive partner in Cambodia for their safety products.
Honeywell is a Fortune 100 company, achieving $40.5B in sales in 2017 and has a reputation and track record as a global leader.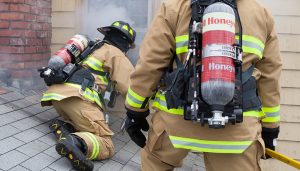 SMCS Risk is very proud to be given this fantastic opportunity. Honeywell Safety Products is a global manufacturer of leading PPE (Personal Protection Equipment) from trusted brands such as Honeywell®, Uvex®, North®, Howard Leight®, Oliver®, Servus®, and Miller®.
"Im very excited and extremely happy. Reputable companies such as Honeywell don't become your partner and trust you with their brand, unless they recognise you as a company who can deliver. This new partnership further proves that SMCS Risk is growing in reputation as a leader in providing quality and professional risk management and training services, delivered by a qualified and experienced team."
As development in Cambodia increases, the desire by consumers to purchase and use quality products manufactured by reputable companies increases. It is imperative that companies who sell specialist safety products and provide specialist training solutions, like fire safety & rescue training, breathing apparatus training, driver training, specialist machinery training and first aid training, have qualified and trained employees who have worked operationally in that specialist field.
For more information about SMCS Risk's new partnership with Honeywell or to request a brochure containing all of our available Honeywell products, please contact SMCS Risk, and we will arrange for one of our qualified team to deliver the brochure to you.