SMCS RISK is working with Khmer Beverages to improve their capacity to respond to HAZMAT incidents at its brewery.
HAZMAT is an abbreviation for "hazardous materials"— substances in quantities or forms that may pose a reasonable risk to health, property, or the environment. HAZMAT's include such substances as toxic chemicals, fuels, nuclear waste products, and biological, chemical, and radiological agents.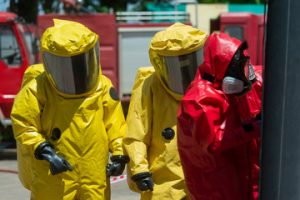 SMCS RISK will be supplying the brewery with fully encapsulated suits and other protective clothing used by responders who deal with HAZMAT incidents, and provide them training on how to use the specialist equipment.
SMCS RISK will also be supplying the brewery with SCBA equipment and training rescue teams in how to use this equipment correctly.
"HAZMAT training is specialised and extremely important. Not only will it ensure the health and safety of responders, but it will train them to understand the risks and potential hazards when dealing with HAZMAT incidents." said Dave Miller, SMCS RISK's FireSafe4Life Division Specialist.
Dave Miller has over 35 years experience working in the Melbourne Fire Brigade and years of experience responding to HAZMAT incidents, and is a leading expert of fire fighting, fire rescue and HAZMAT response in Cambodia.
For more information about SMCS RISK's training programs or safety products please view our website or contact us via email.