SMCS RISK will provide Incident Commander & Controller Training to 10 Krisenergy staff.
Krisenergy, an oil & gas exploration company who is operating an oil rig facility off Cambodia's coastline, has engaged SMCS RISK to provide Incident Commander & Controller training to their employees.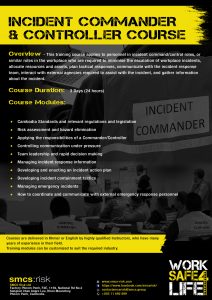 The training, which will be delivered on the 28th & 29th of December, will be divided into 2 phases, with 10 of the on-shore employees receiving training first, and phase 2 providing training to all of the company's off-shore rig workers, once they complete their off-shore rotation.
SMCS RISK's Incident Commander & Controller Training course is designed to teach employees how to minimise the escalation of workplace incidents, and most importantly, how to respond to incidents if they occur.
"We encourage all of our clients, big and small, to create emergency incident operating procedures and to provide their employees with training so they know what roles and responsibilities they have if an emergency incident occurs." said Mitch May, CEO of SMCS RISK.
History shows that with many of the major emergency incidents that have occurred around the world, lives have been saved because employees understood the emergency procedures, understood what their roles were and took appropriate action in a safe and timely manner.
For more information about SMCS RISK training courses, please contact us via email. (image of oil rig facility is a generic photo and not a Krisenergy facility).