Staff at Jin Bei Casino & Hotel undertook first aid training last week.
Jin Bei Casino & Hotel is one of the largest gaming entertainment and hotels in Sihanoukville, Cambodia and employs 100's of staff dedicated to providing one of the best integrated gaming experiences Sihanoukville has to offer.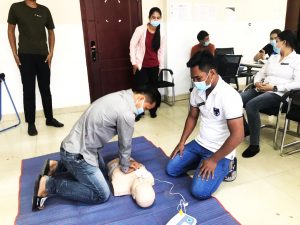 But what makes Jin Bei stand out from the rest of its competition is that they now have staff who are trained in first aid and can respond to a medical emergency if it occurs.
SMCS RISK's FirstAid4Life team provided 2 first aid with CPR training courses over 2 days to 20 Jin Bei staff.
"Its very pleasing that there is an increase in companies asking SMCS RISK to train their staff in first aid. It makes sense if you have a business that attracts tourists that your staff can quickly respond to a medical emergency if it occurs." said Steve Morrish, CEO of SMCS GROUP.
The SMCS RISK First Aid Course is a full 1 day training course that can be held at your pace of business or at SMCS RISK's training facility in Phnom Penh. The course is open to individuals or group bookings.
For more information about SMCS RISK's next available First Aid training course please view our website or contact our FirstAid4Life team.