SMCS RISK conducted a fire equipment and fire fighting capacity assessment at Khmer Beverages yesterday.
Khmer Beverages, part of the Chip Mong Group, is one of Cambodia's leaders in promoting fire prevention and safety in the workplace.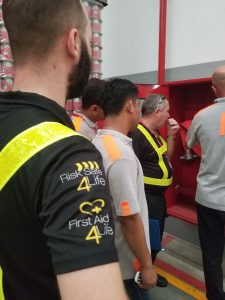 SMCS RISK is proud to be a close partner of Khmer Beverages and our FireSafe4Life Team welcomed the opportunity to assist in improving workplace safety.
The SMCS RISK FireSafe4Life Team inspected all of Khmer Beverages fire fighting equipment including their fire truck, inspected fire hydrants around the brewery complex and conducted a fire fighting & response capacity assessment of Khmer Beverages fire response team.
With a team that has years of international fire fighting experience, SMCS RISK is the leading fire fighting & response training company in Cambodia.
SMCS RISK looks forward to working with Khmer Beverages as they continue to be a leader in workplace safety.
For information about SMCS RISK's training programs please view our website. For more information about SMCS Risk or to request our Corporate Profile please contact us via email.