SMCS RISK provided a Fire Safety Train-The-Trainer course to Khmer Beverages last week.
Seen as an industry leader in workplace healthy and safety, Khmer Beverages, known for its Cambodia Beer brand, has been increasing the capacity of its fire response and safety teams at its world-class brewery in Phnom Penh, Cambodia.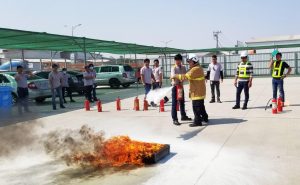 Last week, SMCS RISK, who has been providing specialist training to Khmer Beverages employees, provided a Fire Safety Train-the-Trainer program to 10 of the brewery's trainers.
The Train-the-Trainer program is designed to provide theoretical and practical based experience training to people who wish to be fire safety trainers in their workplace.
"Because of our extensive operational fire fighting experience, SMCS RISK is able to take training to a new level in Cambodia. The train-the-trainer course enhances the ability and knowledge of people working in fire safety, to be able to train others in their workplace, about the basics of fire safety and response." said Dave Miller, Director of Training at SMCS RISK.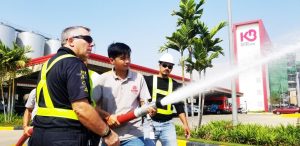 The Khmer Beverage Trainers will use the skills and knowledge they have attained during the training course to better understand potential risks at the brewery and implement strategies and processes to reduce the risk of fire and related hazards. SMCS RISK will provide refresher training to the trainers going forward.
For more information about SMCS RISK's training programs please contact us.