Last week SMCS Risk provided Sea Survival Training to 10 employees from Cambodia's Ministry of Mines and Energy, Department of Petroleum.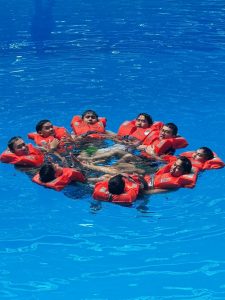 Tasked to conduct inspections on offshore facilities in Cambodia, the employees participated in the 2 day intensive theoretical and practical based training, learning skills in emergency equipment usage, sea survival techniques and the survival circle.
The training also provides participants with basic first aid and CPR training, giving them basic knowledge on what to do should one of their colleagues require medical attention.
"This is probably one of the most important training courses that these employees can do. Many Cambodians cant swim, and knowing how to react and use your water safety equipment if you fall overboard, may just be the difference between surviving and drowning, if an emergency happens offshore." said Steve Morrish, SMCS Group CEO.
For more information about SMCS Risk Sea Survival Training Course please contact us.