Last week SMCS Risk provided Breathing Apparatus (BA) Training to 40 employees at Cambodia largest cement company, Chip Mong Insee.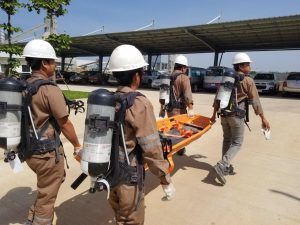 In October we reported that SMCS Risk had been awarded the contract to provide Breathing Apparatus Training to employees at Chip Mong Insee's cement plant in Kampot, Cambodia. The employees had previously been provided fire rescue and fire fighting training by SMCS Risk, and the BA Training was the second phase in their fire & rescue training development.
The function of SMCS Risk's breathing apparatus training is to ensure that the user is competent in the safe and effective use of equipment and allows the trained wearer to breathe in an atmosphere that would not otherwise support life. BA training is crucial for employees tasked with fire rescue, particularly when their workplace has a high risk of critical incidents that would require rescue staff to enter areas that make normal breathing difficult and have to use breathing apparatus equipment.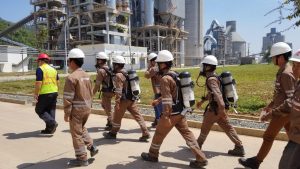 Chip Mong Insee's cement factory is considered a high risk factory that provides numerous challenges for fire rescue employees who may be faced with a critical incident. Fire, smoke, hot work areas, cement dust, chemicals, pollutants and confined spaces found at a cement factory, can pose a very high risk for any employee working on site.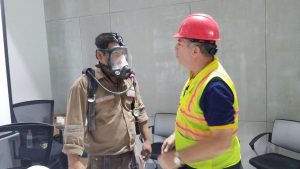 SMCS Risk's BA Training provides specialist training so that trainees understand everything from respiratory systems, composition of the atmosphere, operation of Breathing Apparatus, search procedures to rescue priorities.
"I was very impressed with the speed at which the trainees grasped BA concepts and they all performed very well during their practical exercises. I am confident they can now use BA equipment confidently in a critical incident." said Dave Miller, SMCS Risk's Chief Instructor for its FireSafe4Life division.
SMCS Risk's Instructors are all internationally qualified and accredited with many years of experience in relevant emergency response industries, making SMCS Risk the leading company in Cambodia for Fire Rescue, Fire Fighting and Breathing Apparatus training.
The 40 Chip Mong Insee staff who have now received fire rescue and BA training will need to continue to update their knowledge, practice what they have learned and ensure that their specialist skills continue to improve through ongoing training.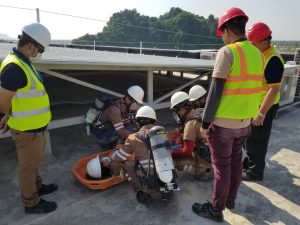 For more information about SMCS Risk's Fire Rescue and BA training programs, please contact our FireSafe4Life division.