SMCS RISK has launched the first of it's online safety courses.
Like all companies, SMCS RISK has had to adapt to the ever changing environment presented by the Covid-19 outbreak in Cambodia.
With many companies forced to reduce operations and have staff work from home, SMCS has had to change the way it presents it's workplace safety training courses.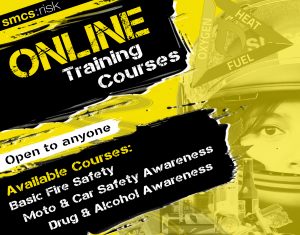 SMCS is now offering Moto & Car Safety Awareness, Drug & Alcohol Awareness, and Basic Fire Safety training courses online.
Presented by SMCS RISK's qualified & experienced Western and Cambodian Instructors, the new online training courses will contain the same content as their in-class equivalents.
"We have several clients who are looking to take advantage of the work-from-home restrictions currently in Cambodia and continue to train and up-skill their employees. The new online courses are a great way for people to receive training without having to leave their home and breach any Covid restrictions." said Mitch May, CEO of SMCS RISK.
People participating in the online courses will be required to be present for the entire duration of a training course and participate in online discussions as part of their assessment for competency.
"It's exciting for us as a company. We already have one very reputable company signed up to have 150 of their employees trained in Moto & Car Safety Awareness training." said May.
For more information about SMCS RISK's new online training course please contact us.