Chip Mong Insee has a very capable fire fighting and response team.
These are the words stated by SMCS RISK's Fire Safe 4 Life Director and Chief Instructor Dave Miller.
For the past 12 months, SMCS RISK has been working with Chip Mong Insee to assist with providing Australian Standard Fire Fighting, Response and Rescue training to 50 of Chip Mong Insee's employees.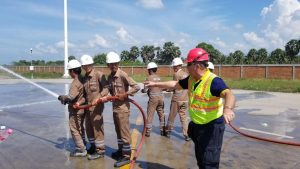 This week, the 50 employees are undertaking a fourth up-skills training course; 5 days of practical based fire fighting and rescue drills, designed to give the employees the opportunity to maintain and practice the skills they have learnt over the past year, whilst being presented with real life fire situations.
"The students really have come a long way since we first started training them. I have full confidence that if a fire occurred at the Chip Mong Insee plant today, the trainees would be able to respond confidently and effectively." said Dave Miller.
Dave Miller, with over 35 years of fire fighting experience with Melbourne Metropolitan Fire Brigade, including 29 years as an Officer and 10 years as Commander, is an extremely qualified and experienced Fire Fighting and Rescue Instructor.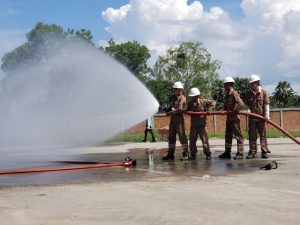 SMCS RISK offers a wide range of fire fighting and rescue training packages that can suit all workplace environments. For more information about our training programs please contact us via email.