The staff at Orkide Villa in Cambodia have learnt how to respond to a medical emergency.
21 staff from the company's Phnom Penh office participated in SMCS RISK's Basic First Aid with CPR training course on the weekend.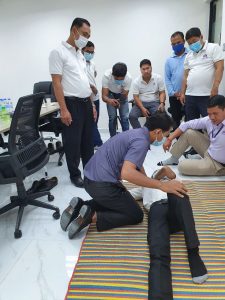 Spread into 2 training courses over 2 days, the 21 staff learnt how to identify a medical condition, respond to a medical emergency and how to administer first aid including using CPR techniques.
The training gives Orkide Villa staff a better understanding on how to respond to a medical emergency involving not only their colleagues and people visiting Orkide Villa buildings, but the staff can feel comfortable that if one of their loved ones has a medical emergency at home, they will be able to confidently provide a much better initial response.
"It's baffling to me as to why every person in Cambodia doesnt undertake a first aid training course. If you are happy to put your life or the life of your loved ones in the hands of one of Cambodia's Ambulance staff, then I wish you the best of luck, because the reality is, a speedy and professional response to your medical emergency may not always occur in Cambodia." said Steve Morrish, CEO of SMCS GROUP.
The difference between life and death during a medical emergency is often influenced by the timely initial response provided by first responders – do you know how to respond if something happened right now?
SMCS RISK runs First Aid and other safety training courses throughout the year. To find out more about our training courses or to register yourself onto a training course please contact SMCS RISK.