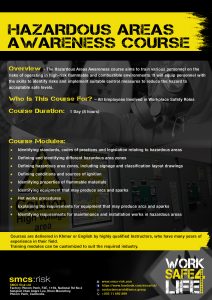 The first of SMCS RISK's new Workplace Safety training courses has been launched in Cambodia.
Hazardous Area Awareness Training aims to educate individuals who work in workplace safety roles, about the risk associated with high-risk flammable and combustible environments.
The training course will be delivered in English and Khmer by SMCS RISK's qualified training instructors and provide individuals with knowledge on how to identify hazardous risks and implement suitable controls measures to keep hazardous area workplaces safe.
"With many workplace incidents occurring as a result of the poor storage of or misuse of hazardous materials, we think employers in Cambodia will be very keen to send their employees to undertake this training course." said Bunthan Minh, SMCS RISK's National Safety & Training Manager.
For more information about the Hazardous Areas Awareness training course or any other SMCS RISK training courses please contact us via email.