SMCS RISK has provided Sea Survival Training to employees working on the Apsara Offshore Oil Rig in Cambodia.
The operators of the Apsara oil & gas field, have selected SMCS RISK to provide various workplace training programs to its employees, including Sea Survival and Man Over-Board Training.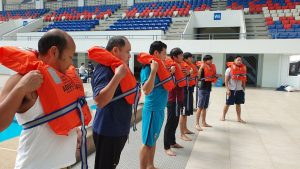 SMCS RISK's Sea Survival and Man-Overboard training teaches employees about the concept of sea survival, how to use sea survival equipment like life jackets and emergency safety equipment, and most importantly, how to act and survive in the event of an emergency where they are required to enter the water from the rig or transfer vessel.
"We are very impressed with Apsara and their desire to provide extensive training to their employees, particularly in the areas of critical incident response and sea survival. Training employees is a crucial element to ensuring that a safe workplace is provided to all employees." said Mitch May, SMCS RISK's Chief executive Officer. "We are happy that companies like the Apsara Oil Rig have recognised SMCS RISK as the leader in workplace safety training in Cambodia. Its a credit to our professional training team." May said.
SMCS RISK's Sea Survival and Man Over-Board Training, which focuses on improving water safety for people involved in the boating or off-shore industry, is a 2-day training course that is held in Phnom Penh.
In the coming weeks, SMCS RISK will be launching more water safety related training courses, including a new Life Guard and Water Safety Training course.
For more information about this article or to receive information about our training courses, please contact SMCS via email.