SMCS Risk has secured the contract to train thirty three (33) of Chip Mong Insee's drivers.
In a further sign that SMCS Risk is being recognised as a leading training solutions company in Cambodia, cement manufacturing company Chip Mong Insee has awarded a contract to SMCS to provide enhanced driver training to 33 of Chip Mong Insee's drivers.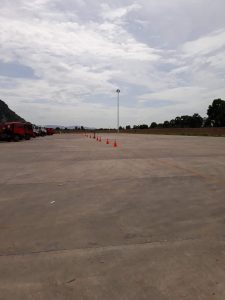 The drivers, who work in various departments at Chip Mong Insee, including executive drivers, sales and other core operational positions, will each attend a 2 day intensive course, culminating theoretical and practical based training.
Chip Mong Insee, who operates the largest, lowest energy consumption cement mill in the region, understands that by providing driver training courses to their employees not only educates them in how to drive in a safe manner on Cambodia's roads, but it also protects Chip Mong Insee's brand and reputation, when fellow road users and the community see Chip Mong Insee branded vehicles driving in a safe and responsible manner.
SMCS Risk's driving instructors have years of international and local training experience.
"We are very happy that Chip Mong Insee has continued to recognise SMCS as a reputable training company. It is evident every day that many drivers on Cambodia's roads do not know how to drive their vehicle safely and responsibly. We are very excited that we can play our part in educating and training drivers in Cambodia." said Steve Morrish, CEO of SMCS Risk.
In January this year, the Cambodian Government expressed concern that the number of vehicle collisions in Cambodia had increased in 2017. A total of 1,780 people died and 5,539 people were injured in traffic accidents nationwide in 2017.
SMCS Risk will provide the driver training courses from the 26th November through to the 7th of December.
For more information about our driver training courses please contact Mr. Mitch May