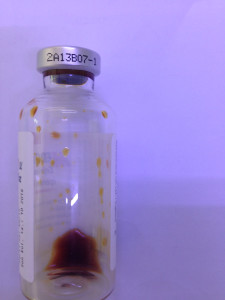 Cambodia has for a long time been facing issues relating to counterfeit medicine and the legitimacy of people prescribing it.
Loose regulation and poor monitoring by the Ministry of Health has resulted in an increased level of counterfeit and illegally diverted medicines being imported into Cambodia.
Coupled with an uneducated community that accepts that anyone who says they are a Doctor or anyone who sells medicine must be qualified and knows what they are doing, has led to an increased number of hole in the wall pharmacies with staff who are not medically qualified prescribing medicine and clinics with doctors treating patients who are not doctors.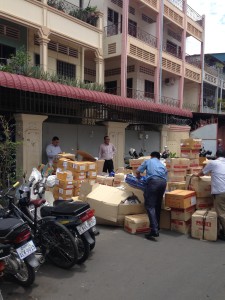 In late 2013, SMCS RISK in conjunction with Cambodia's anti-economic police conducted investigations that resulted in the seizure of 6 tons of counterfeit and illegally diverted medicine. It was Cambodia's largest ever medicine seizure on record and exposed a huge problem for Cambodian authorities.
Proactive efforts by police and health authorities commenced and more counterfeit medicine was seized around the country. Questions began to be asked. How big is the counterfeit medicine problem in Cambodia?
However, the issues which had been long covered over with the hope that most would turn a blind eye, imploded in late 2014, when a Cambodian male acting as a doctor without qualifications infected approximately 200 people with HIV through the use of non-sterile needles. Sadly it resulted in the death of a child and young girl.
The Cambodian Government for too long hoping that the issue might self rectify was now faced with a national endemic that had resulted simply because authorities had not enforced health rules and regulations.
Unfortunately it has taken the deaths of two young people to make the Cambodian government take the matter seriously and has ordered police and health officials to crack down on illegal medicine and doctors.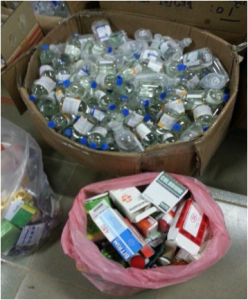 The problem will take time to improve. SMCS Risk advises all people in Cambodia to do the following when seeking medical health or buying medicine;
Only seek medical attention from clinics that display medical licenses openly in their clinic and can provide the qualifications of their doctors for inspection.
If unsure of the medical advice you are receiving, especially if it involves an operation or the prescription of medicine, seek alterative opinions.
Purchase medicine from known brand pharmacies or a pharmacy that has a proven reputation.
Never purchase and take medicine without a prescription if you know that in normal circumstances you would require a prescription from your doctor.
When buying medicine from a pharmacy, never purchase medicine that has been opened or is sold in smaller pieces than the amount stated on the original box.
Never buy medicine that is given to you in packaging that is not labeled correctly or resembles a mixed bag of lollies.
Always check the expiry date on medicine packaging.
Follow these simple steps and you will ensure you are being treated by a qualified doctor and taking legal medicine.
If you suspect a clinic or pharmacy that has non-qualified doctors or is distributing illegal medicine please report it to info@smcs-risk.com