SMCS RISK has delivered HAZMAT Training to the Khmer Beverages Emergency Response Team.
As part of the Emergency Response Training that SMCS RISK is providing to 10 Khmer Beverages employees tasked with being the Emergency Response Team at the Brewery, which includes SCBA training and Chemical Splash Suit training, SMCS RISK has now provided HAZMAT training to the team, which included Fully Encapsulated Suits and Decontamination training.
HAZMAT is an abbreviation for "hazardous materials"—substances in quantities or forms that may pose a reasonable risk to health, property, or the environment. HAZMAT includes such substances as toxic chemicals, fuels, nuclear waste products, and biological, chemical, and radiological agents.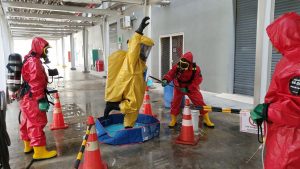 "We believe this is the first HAZMAT training in fully encapsulated suits that has ever been provided in Cambodia." said Dave Miller, SMCS RISK's Fire & Emergency Service Specialist.
"This training also included full training in the decontamination process. It teaches students how to ensure that all chemicals are removed from the emergency response team after responding to a HAZMAT incident." said Miller.
All of SMCS RISK's fire and emergency response training courses have a common aim – ensuring that any emergency responder is prepared, equipped and trained to combat any situation that can affect the safety and welfare of employees, the community and the company.
For more information about SMCS RISK's HAZMAT training course view our website or contact our specialists.